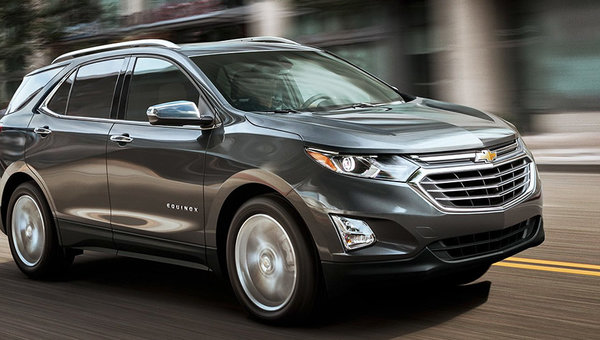 The 2019 Chevrolet Equinox is an SUV that every type of person could love. Commuters and family drivers will appreciate the performance and safety of the LS and LT models. The Diesel satisfies those who expect the best-in-class fuel economy. For those who love premium living, the Premier is a perfect fit.
This stylish SUV has geometric design elements that add visual interest. The headlights taper down to join the shapely grille. Shoppers will love the fact that it comes in 12 colours. A Redline edition replaces the chrome grille, alloy wheels, window trim, and mirrors with black finishes, along with a dash of red accents the wheels.
Engine Choices for the 2019 Chevrolet Equinox Shopper
Under the hood of the 2019 Chevy Equinox, you'll find three engines on the roster. The turbo-diesel uses only 6 L/100 KM on the highway. Despite these fuel savings, this engine outputs 137 hp and 240 lb-ft. The standard engine is a four-cylinder 1.5-litre turbocharged gas engine. It develops 170 hp and 203 lb-ft of torque. Highway fuel economy is rated at 7.3 L/100 KM.
If you step up to the 2.0-litre turbo, you'll benefit from 252 hp and 260 lb-ft of torque. This powerplant is paired with a nine-speed automatic transmission. With a tow-haul mode, this SUV can pull a trailer that weighs 1,588 kg.
Chevrolet has designed an available intelligent all-wheel-drive system for the Equinox. If traction is difficult, AWD will signal that it needs to be turned on. Front-wheel-drive mode improves fuel economy.
Enjoy Life with the 2019 Chevrolet Equinox
The Chevy Equinox has modern features and conveniences that make it fun to own an SUV. Rides are quiet thanks to the acoustic windshield, active noise cancellation, and ample insulation. A sizeable passenger cabin is matched with a useful cargo hold. The maximum cargo capacity is 1,798 litres of gear.
Soft touches and designer elements invite you to relax. A remote starter, standard heated seats, and dual-zone automatic climate controls are your ticket to beating the cold. Dash entertainments include a touch screen and available Wi-Fi connectivity. Apple CarPlay and Android Auto expand what you can do with voice controls and apps.
You'll find a fine selection of Equinox SUVs at our dealership. Ask for the latest information on financing offers.